In a world full of fashion and new upcoming styles, you need to be updated with the latest trends. Being up-to-date with the latest trends adds life to your personality. Haircuts always make the list of top trends.
The fashion world is constantly discovering new haircuts. However, some haircuts also remain everlasting every season. This article lists the best everlasting girl's haircuts. They also come in a variety of hair lengths.
Please scroll down to check our hottest hair cuts for girls to rock this season!
1. Pixie Girl's Haircut
Undoubtedly, this pixie haircut is one of the hottest trends this year. Moreover, it's incredibly versatile and can make you good to go if you are short of time.
Especially office going girls love to have this hair cut because it takes less time to make and gives a more professional and cool look. To rock this season, just have your hair cut in a pixie cut.
2. Long Layered Girl's Haircut
Having long hair always seems an obsession for many girls. Getting the right haircut without cropping the hair length is always confusing for those girls.
I think mentioning this layered haircut would be a good idea for those girls. Also, cutting your hair in layers will create an illusion of extra-long hair with an amazing volume. Through this long layered girl's haircut, you will also be able to highlight the texture of your hair.
3. Bob Cut
There are always some haircuts that can never get out of style, and this bob cut is one of the top spots on the list. With so many possibilities of wearing this cut, you can rock with your look.
Whatever you do to your hair, whether you curl it or straighten it, you will definitely make an impression with your bob cut.
It is important to ensure that the bob style you choose complements your face shape to ensure a fantastic look.
4. Medium Layered Cute Girl Haircuts
Long hair is beautiful, but short hair is also lovely. This short layered haircut is for those girls who don't have time to go with long hair.
It can make you ready to go in minutes without putting too much time styling your hair. Just ask your hairstylist to cut your hair in medium-length layers to create a stylish look. A hair cut like this also creates the illusion of volumized hair.
5. Short Layered Little girl Hair cut
A short layered haircut is as same as the above two haircuts. The difference is in the length of hair. You can create a cute gorgeous look through this short layered haircut.
6. Beachy Waves Haircut
A beachy waves haircut can make you look stunning with long and short tousled hair. The haircut will give you a polished fuzzy look to hit the town. Let's give this most sought after girl's haircut a try atleast once to see how it goes with you. You can also add highlights to your hair with this beachy haircut thus to look hot.
7. Bang Cut with Shoulder length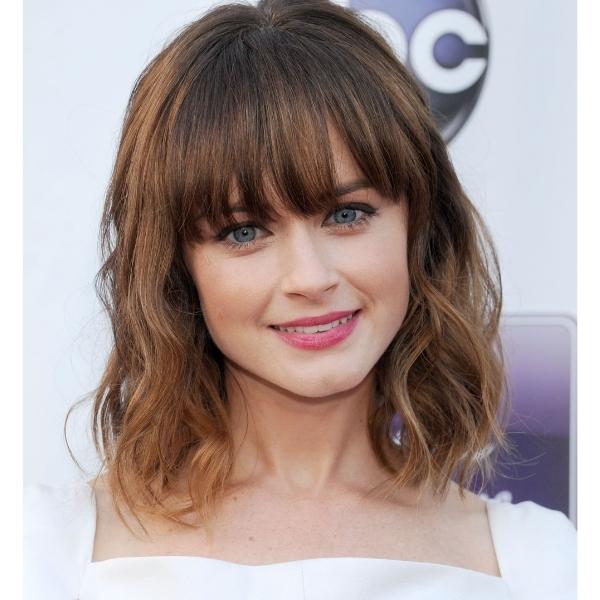 For girls who like a regular shoulder-length hairstyle, just check this haircut. It is one of the best shoulder length little girl haircuts. By keeping your hair length according, you can have bangs. They will give you a sweet gorgeous look while keeping your hair length to your choice.
8. V-Shaped Girl's Haircut
During this year's fashion trends, V-shaped haircuts are making a comeback. You can add a lot of style features to this haircut. With your hair ends cut in a V shape, you can add many layers to your hair. This haircut will give your hair a flattering appearance and create movement in your style.
9. Blunt Girls Haircut
Although having a new haircut is like an adventure, but the thing to consider before having a blunt cut is your hair volume. Those with dead straight hair should consider the blunt cut for this season. For girls with less volumed hair, the blunt cut is the best choice. It makes the hair appear fuller and volumed.
10. Stacked Bob Girl's haircut
Stack bob cuts don't seem to miss the list of trendiest cuts, do they? By adding a textural finish to your hair, this haircut will make you look cute and alluring. Stacked bob cuts can range from short to long or anywhere in between, thus adding variety to your look.
Final Thoughts:
It's always a thrill to get a new haircut. As it is never a good idea to keep your hair in the same cut all the time. We should change our haircut every six months or at least a year. Doing this creates fun in our lives and makes us feel beautiful. Do not hesitate to try a new look, but consider your face shape and your hair volume before making a decision.
FAQs
What is the best girl's haircut for Square shape face?
For square shape face girls, it's always a good idea to have a long haircut. It will make your face look balanced and attractive. Additionally, avoid having short sharp haircuts as they will make your face look more square and disturb the visual golden ratio.
Is Blunt cut is suitable for curly volume hair?
Basically the blunt cut with curly hair creates an over volume look to your face. If you want to carry this look, then go for it. But the options are always there. If you will not like your look, you can have layers on your blunt cut.
How long should your hair be?
Umm… There's not any specific answer to this question. The hair length should be a personal preference. For some people it depends on your hair type, preferences, and current trends. The important thing to remember is to carry your hair so nicely that it becomes a trend, no matter what length it is.